Charters
We are available for private events which include:
Trolley Rentals for Corporate Events, Weddings, Parties, and Reunions
We can provide scenic and historic tours to individual groups
We provide shuttle service to and from events for groups

If you want a Trolley for a Special Event, we can do it!
Contact Us: info@FBGtours.com
Rebecca Howard, owner
PRIVATE TOURS
For groups of 20 or more, reserve a trolley for a private tour of historic Fredericksburg. Choose from our historic tour or Immigrants and Indians tour. For larger groups, more than one trolley can be provided.
Group rates are available. Call or email us for more information.
SHUTTLE SERVICES
We provide shuttle services for several events throughout the year, contact us for more information.
If you are hosting an event that requires shuttle service, let us know.
When your group is staying in one or more local hotels, we can shuttle them to points of interest. Call or email us with your itinerary, and we can provide transportation.
WEDDINGS
We can work with your wedding planner to provide transport for your perfect wedding event! Custom catering for you, we can:
Transport the wedding party to dinners, the event location
Transport guests to and from
Participate in photographic memories
Custom design or select from available tours for your special guests
Call or email for individual planning and rates
MILITARY GROUPS AND FAMILY REUNIONS
We work with many groups each year during their reunions. Some want shuttle services. Others want to take the historic tour or a specialty tour. Call or email us for group rates.
BIRTHDAY PARTIES AND FIELD TRIPS
All ages love riding on the trolley. We can pick everyone up at your house and transport them downtown or to your chosen destination or custom design a tour. Then your group can return to your home or to a local park for the celebration.
Public schools, private schools, and homeschool groups like both the historic tour and Immigrant and Indian Tour. Our Enchanted Rock tour and our LBJ tour are also popular and a wonderful tool to teach Texas and American History.
Sometimes groups want the full tour. Other times they ask for an abbreviated version and combine that with transportation to one or more local attractions, we can custom design a tour specifically to your needs.
GIFT CERTIFICATES
CLICK HERE TO BUY GIFT CERTIFICATES ONLINE!
All trolley guests must sign a liability waiver.
buy tickets online
Tours
Welcome to Fredericksburg Tours. Our Vintage Style Trolley tours transport you back in time to the days of the early German settlers as they made the Hill Country area their new home - experience the history, architecture, important sites, and beauty with our narrated tours.
Charters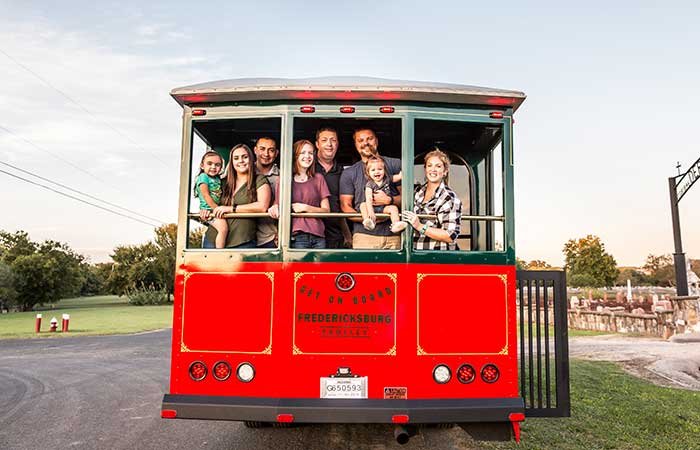 Charter our Trolleys - We are available for private group tours, weddings, families, schools and church groups, military reunions, corporate events, birthday and retirement parties, and shuttle services throughout our traveling area.